Air Peace stops flight to South Africa due to visa and forex scarcity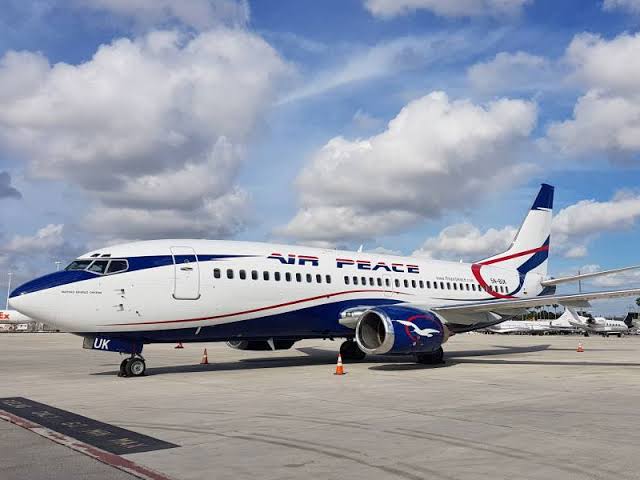 Air Peace on Monday said it had halted flight services to Johannesburg, South Africa, effective August 22, 2022, due to delayed issuance of South African visas to travellers, worsening COVID-19 crisis forex and the rising cost of aviation fuel and its scarcity. .
The carrier, in a statement on its official Twitter account, said the development was regretted but had become inevitable, saying the situation could improve in 60 days.
According to the airline, it has informed the South African High Commission in Lagos of the effects of the difficulty in obtaining SA visas by Nigerians, resulting in extremely low passenger numbers on flights to and from from Johannesburg.
The statement read: "Passengers whose flights are affected have the option of rescheduling their flight before August 22, 2022 or from October 9, 2022. Passengers can also request a refund via [email protected] and our team will take care of it quickly. ."
The carrier apologized for the inconvenience caused, stressing that it would keep the public informed in the hope that the situation improves.
The sudden halt to operations by Nigerian airlines has further heightened the precarious situation for carriers in the country and around the world as airlines find it extremely difficult to operate profitably due to the crisis that has hit the industry, in particular because of the surge in Jet A1 fuel prices. .
The currency (FX) liquidity crisis is eating away at the day-to-day operations of local airlines, leading to reduced airline capacity and higher airfares.
With aviation fuel at an all-time high and foreign currency unavailable to meet obligations on schedule, local air travelers should brace themselves for tougher days ahead.
Operators have warned that the dire situation, which is now feeding into airline operations, will worsen flight delays and cancellations, further reduce frequencies and routes and drive up airfares as more carriers fight to stay afloat.
With 10 local airlines suddenly reduced to eight, the effects are telling on local travel.
On the one hand, travelers stuck on less viable routes, on the other hand, high frequency routes which are now affected by high fares.