Covid-induced liquidity crisis pushes Sembcorp Marine to the brink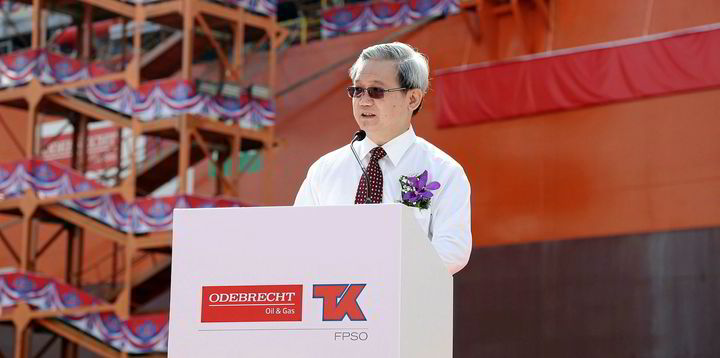 Singapore offshore and marine giant Sembcorp Marine has launched S $ 1.5 billion (US $ 1.1 billion) rights issue to address severe challenges it faces due to Covid-19 disruptions .
Sembmarine, which at the same time announced it was in negotiations with Keppel Corporation for a merger with Keppel's offshore and marine division, said it intends to raise S $ 1.5 billion through a fully committed and waivable rights issue of 18.8 million new ordinary shares in the capital. of the company on the basis of three new shares for two existing shares held.
Startree Investments, a wholly-owned subsidiary of the main shareholder Temasek, has undertaken to subscribe to its pro rata right of 42.6% and excess rights so that its total subscription will amount to 67% of the issuance of rights; DBS Bank subscribes the remaining 33% of the issue.
Wong Weng Sun, Managing Director of Sembmarine, said: "Since the last rights issue in September 2020, our operations have been severely affected by the continued disruption of Covid-19. "
"The cash from the proposed S $ 1.5 billion rights issue will be vital to strengthening our financial position. This will ensure that we emerge from this crisis as a strong and innovative player, with an increasing strategic focus on clean, sustainable and renewable energy solutions.
The company requires shareholder approval at a special meeting in August 2021.
The disruptions to site operations caused by Covid-19 impacted the execution and completion of projects, as well as postponed deliveries and payments by customers. This created a short-term but significant draw on the company's working capital position, Sembmarine said.
An earlier rights issue in September 2020 had strengthened its financial position, and the proceeds were used to reduce leverage and debt service obligations by converting a S $ 1.5 billion subordinated loan owed to Sembcorp Industries in Sembmarine shares with the balance of S $ 600 million to finance ongoing operations.
However, the protracted disruptions of Covid-19 have created short-term challenges for the company.
The rights issue will strengthen the company's balance sheet, resolve the depletion of its working capital and replenish liquidity to meet operational funding needs expected through the end of 2022.
Meanwhile, regarding the potential combination with Keppel Offshore & Marine, Sembmarine Managing Director Sun said: "Our industry is undergoing rapid change and becoming more and more complex due to the accelerated pace of the transition to an economy. green. "
"In this current landscape, we recognize that there could be significant benefits to exploring a potential combination. We are proud of the talent that has been built into Sembcorp Marine over the years, and although the potential combination will require consideration of the future development of our workforce, we are committed to addressing these issues by consulting closely with our union representatives during discussions. as we work to achieve the required synergies. "