girl scouts receive silver award | Winchester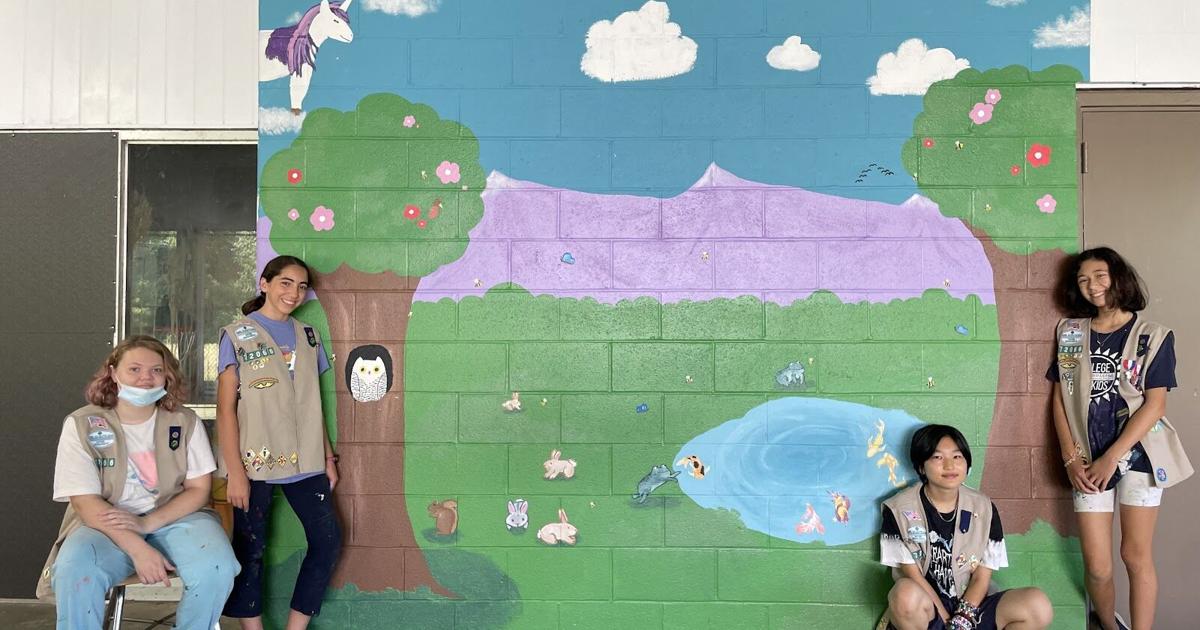 WINCHESTER – Girl Scout Troop 72066 recently received one of Girl Scouts' most prestigious awards: the Silver Award. The Silver Award is a medal that rewards more than 50 hours of work to make the community a better place. Winchester Troop 72066 set out to achieve this award by helping out at their former elementary school, Muraco.
Four of the girls in Troop 72066, who are currently in Grade 9 at Winchester High School, Juliette K., Sophie L., Nadia NB and Norah S., have all learned valuable insights into leadership and citizenship. Girl Scouts of Eastern MA was proud to present the Silver Award to the girls.
"The dedication of the girls to this project was exceptional! The murals took much longer than expected. They gave up four weeks of their summer vacation and put in far more than the 50 hours needed to qualify for the Silver Award," said passionate troop leader Diana Baquero.
The girls' project was meant to brighten up Muraco's overhanging space.
Through a lot of design and brainstorming throughout their year of eighth grade, they created a masterful plan to turn this dull dungeon into a dazzling dwelling! With the help of the DPW, the walls were primed and the troupe set to work painting. In mid-June 2022, Sophie laid the first brushstroke on the group's impressive project.
After all the planning, the painting started quickly but took longer than expected. It took four weeks of painting before the girls could say they were done with the murals. The girls have brought lasting change to Muraco.
"On behalf of Muraco Elementary School, we extend our thanks to the Girl Scouts for their incredible donation of time and artistic talents to our new and improved overhead space. The space is now even warmer and more welcoming – we hope Muraco students will engage and enjoy the incredible wall work for years to come. Thank you," exclaimed Muraco's manager, Ms. West.
"I found it very rewarding to bring this whole project to fruition, even though it was a long process. It was great fun to see how much we were able to change this dreary space. -Nora
"I'm so pleased with the outcome of this project, everyone in our troop has worked so hard this summer. The end result was so rewarding after the long process we went through. -Juliet
"I loved being part of something so beautiful! The process was great fun and I practiced leadership and working with a team. -Nadia
"I learned a lot about patience and friendship while painting this mural." – Sophie