Kuleba calls for a boycott of big companies refusing to leave the Russian market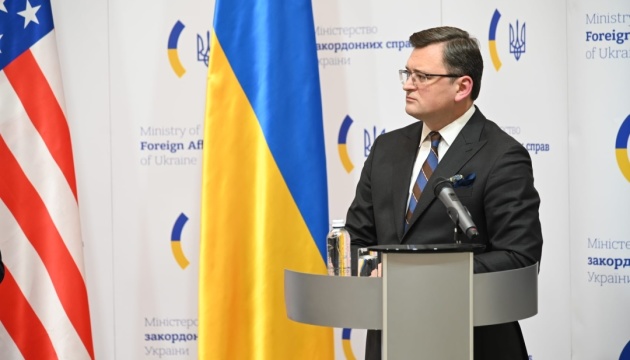 Foreign Minister Dmytro Kuleba called on consumers to boycott big international companies that have not yet pulled out of the Russian market.
Kuleba addressed the issue during an online briefing on Monday, March 14, according to a Ukrinform correspondent,
"Putin has in fact ruined Russia's investment climate, business climate and reputation as a trading partner. As of this morning, 209 Western companies have completely withdrawn from the Russian market and stopped cooperating with partners 378 others have partially limited their work. We are unhappy about this, we know these companies, we know their maneuvers, their tricks and their attempts to stay in the Russian market in one form or another, so we will press them" , Kuleba said.
Read also: US imposes sanctions on Kremlin elites
According to the Minister of Foreign Affairs, international companies must leave the Russian market for both moral and pragmatic reasons. After all, working in Russia is, firstly, a reputational blow, and secondly, the Russian economy is rapidly approaching collapse and the government's economic policy is becoming increasingly unpredictable as threats of nationalization are made. already hear.
Kuleba noted that there are a number of large companies that have not yet pulled out of Russia. These include Leroy Merlin, Metro, Auchan, Spar, Pirelli, Bridgestone Tyres, Accor and Intercontinental. In the field of mechanical engineering, these are OTIS Worldwide, Honeywell, Mohawk Industries and Arconic.
In cosmetics and related products, it's Oriflame, Kimberly-Clark, Koti, Ecco, Salvatore Ferragamo and Philip Morris. In the food industry, these are Papa John's and Kellogg's restaurants. In healthcare, it's Bayer. Among the banks, it is Raiffeisen, OTP Bank, City Group, Société Générale, UniCredit and Intensa Sanpaolo.
"I urge them once again to exit the Russian market as soon as possible, while the rest of governments and consumers – to boycott these companies until they cease their activities in Russia," he said. declared.
Read also: Russia has already lost nearly 100,000 jobs due to sanctions
As reported, on February 24, Russian President Vladimir Putin announced the launch of the invasion of Ukraine. Russian troops shell and destroy infrastructure, heavily shelling residential areas of Ukrainian towns and villages with artillery, multiple rocket launchers and ballistic missiles.