PSGI employees observe an "exit strike"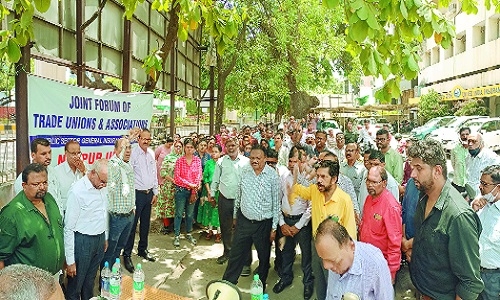 business office
In accordance with the call issued by the supreme body of the Joint Forum of Trade Unions and Associations (JFTU) in the public sector general insurance companies (PSGI), the employees of PSGI observed an "hour-long strike strike before lunch and staged protests demanding immediate settlement of long pending wage reviews. PSGI employees also demanded the 1995 pension plan for all by scrapping the National Pension System (NPS), 30% flat family pension, pension update and repeal of law changes on the nationalization of general insurance companies (GIBNA).
In Nagpur, PSGI employees left their office at 12:30 p.m. and gathered outside the regional office of United India Insurance Company Limited located in Shankar Nagar Square.
The aggrieved employees shouted slogans demanding the immediate settlement of the salary review as well as other demands. They held up slogans condemning the Indian government for its alleged anti-public sector, anti-employee policies and delaying government tactics.
Rajendra Saroj from National Insurance Officers Association, Swapnil Kohle from United India Insurance Company Officers Association, Anil Sakharkar from General Insurance Backward Employees Welfare Association, Vinod Sakhare from All India SC/ST Employees Parishad (Jaimurty), Pravin Dongre from All India SC/ST Employees Welfare Association, Prashant Dixit, General Secretary of General Insurance Employees Union (GIEU) Western Zone and Pradeep Dharamthok, President of GIEU WZ addressed the gathering.
The speakers condemn the Government and the Management of GIPSA for having delayed the revision of the salaries of PSGI employees due for 58 months. The government's anti-wage and anti-public sector policies were also condemned by speakers. All the speakers called on the employees of the PSGI to intensify their struggle and to fight together to achieve their legitimate demands.
Pradeep Dharamthok in his address said that their organization's delegation met with the Union Finance Minister for the salary review settlement. She only assured that the matter would soon be looked into by her, which she also assured earlier.
After the meeting, a joint memorandum was submitted to the Chairman, GIPSA through Dy. The Managing Director of United India Insurance Co Ltd. PSGI employees as well as retirees attended the demonstrations and the meeting.