Students Get a Real Interest in the Risks and Rewards of Stocks | Local News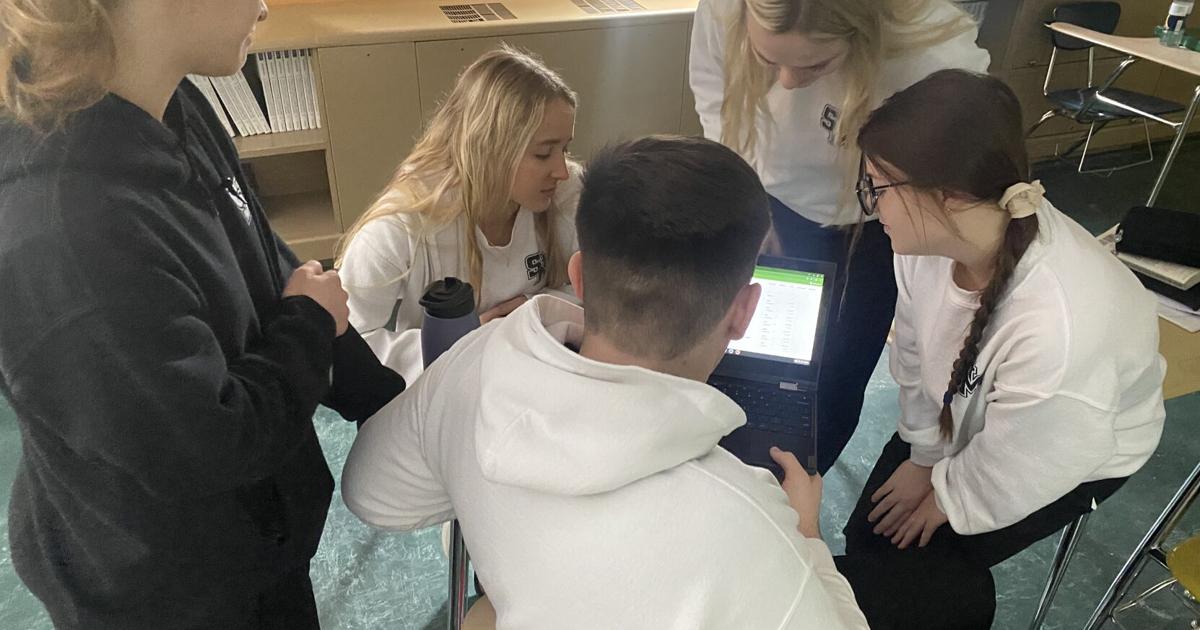 SLEEPY EYE – While simulated investing in the stock market is an essential part of the economics program, a class of Sleepy Eye is investing for real.
A $10,000 donation to Nicholas Kaminsky's class at St. Mary's Catholic School is giving high school students real early exposure to the risks and rewards of the stock market.
If the 20 students in the one-year Economics and Personal Finance course have made a profit in the spring, they can spend it on a party or other group reward. If they lose money, they will have to make up for their loss by doing community service.
Kaminsky said a donor who didn't want to be publicly named approached him with the idea, and he jumped on it.
Kaminsky, who is in her second year teaching at St. Mary's, had her first class of students do some simulated stock buying. Having real money made his second class more engaged, he said.
"It gives them an interest in what they're learning."
Student John Miller accepted.
"I don't think we would have been as committed if the project was just a simulation," the junior said. "Using a real platform to invest made us feel more prepared and likely to invest our own money in the future."
The heightened engagement extended beyond the stock market itself, Kaminsky said. Students pay more attention to current events and think about how these events might impact their actions.
Some of the companies students choose to invest in have products they are already familiar with.
Senior Laurence Simonsen said one of his team's investments was in Nintendo.
"We decided to invest in Nintendo because, after doing some research, we saw that the company was priced lower than it should be for a while," he said. "That, coupled with the recent releases of new games they're producing, has made this stock extremely attractive to us."
This stock earns them a profit. "We remain loyal to this business and may invest more in it," Simonsen said.
His team also researched and invested in a less expected venture. They learned that Tecnoglass, a specialty glass fabricator and installer, had just won a contract that was "worth buying the stock," Simonsen said. They sold the stock at a profit a few weeks before it started to decline.
The students spent most of the year planning what kind of party to throw to celebrate their achievement. More recently, they have been considering their community service options. Like so many adults, they are watching their wallets take a hit from the impact of inflation concerns, the spike in COVID-19 cases and other current events.
"Right now, the stock market fluctuates quite often, as stock prices are constantly moving from good to bad and sometimes from bad to worse," Simonsen said.
But he said he and his classmates learned that "even if a stock goes down, it's not the end of the world".
In addition to playing the stock market for real, Kaminsky said he teaches his students about mutual funds and other low-risk investment opportunities.
Junior Abigail Schwartz said she learned the importance of diversifying her portfolio and not expecting to turn a profit overnight.
"Having a realistic view of the stock market and your money is very important," she said. "It's also important to keep in mind that there's more to life than money and it's very dangerous to be too obsessed with your actions."
Junior Samantha Ibberson said she learned the importance of researching before investing.
"Investing in the stock market can be extremely beneficial to you. However, if not done correctly, you could lose a lot.