The brewery receives one gold and two silver awards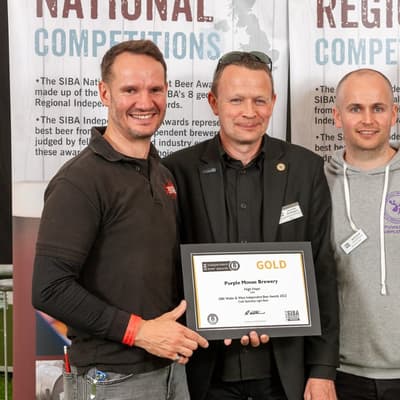 A PORTHMADOG brewery has won the SIBA Wales & West Independent Beer Awards for its latest two creations.
Purple Moose Brewery won the gold medal at the awards ceremony, which took place at the Ludlow Spring Festival at Ludlow Castle.
Navigator, which received the Silver Overall Champion of the Cask Competition, as well as Gold in the Cask IPA category, is described as a red IPA that offers a balance of sweetness and bitterness that will make your taste buds travel.
High Hops, which received gold in the Specialty Light Beer category, is described as a pale, full-bodied and refreshing tropical IPA. Seductive aromas of mango and passion fruit draw the drinker into the full, satisfying flavors of mango, grapefruit and lime, ending in lingering and zesty tropical fruit.
Roy Allkin, President of SIBA, said: "The judges struggled to separate the field as the level was once again extremely high.
"Lucky participants of the Ludlow Spring Festival got to try this and other award-winning beers immediately after the competition, which is also great for brewers as they can put their beers in the hands of real beer lovers.
"The winners of the SIBA competition are officially the best independent craft beers in the region of Wales and the West, something that brewers should be extremely proud of."
The SIBA Wales & West Independent Beer Awards judge a huge range of beers of several styles in separate keg, bottle and can competitions. As the awards are judged primarily by brewers, industry experts and beer journalists, the SIBA Independent Beer Awards are widely regarded as the prestigious "Brewers' Choice Awards" by the industry.
Lawrence Washington of Purple Moose Brewery had this to say about their win.
"This is a fantastic achievement by the whole team at Purple Moose Brewery.
"The fact that our two new beers each won gold in their category, and that one of them achieved silver overall, is a huge vote of confidence in the two beers we have developed.
"We've tapped into two beer styles here that aren't typically traditional British ales, but our brewing team felt with passion that we could bring something new to our range that really satisfies the senses.
"Clearly, we were not mistaken!"